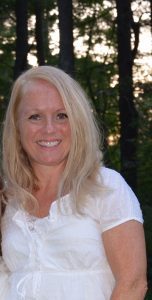 Kathy Harrington
Briefly describe your experience and education:
I have been a pediatric physical therapist for over 20years and continue to love spending my working hours with kids of all ages. I have a BA in Biology and minor in Cognitive Psychology from Bucknell University, PA. I received a BS in Health Sciences and MA in Physical Therapy from Touro College, NY.  I also received my pediatric NDT certification from Seattle, Washington. I grew up on Long Island, NY but have lived in MA since 1995.
I have worked in many settings including: schools, EI, VNA, hospital rotations, outpatient, along with worked as a traveling PT.  I currently  work part-time in outpatient therapy for Winchester Hospital, a partner of Lahey Health, in Wilmington.  I have been teaching yoga for differently abled kids for over 5 years at Stepping Stones Therapy Center and Camp Run A Muck.
Why do you love speech therapy?
I love being playful and silly – working with children is a great excuse to do both of these things. I also love the impact we see in children's confidence and pride as they feel the success of increasing their speech and language skills. Working with the whole family is so important so this is my favorite environment.
What are three words someone would use to describe you?
Energetic, compassionate and effective
If you could be any animal what would it be?
Horses and dogs – especially labs!