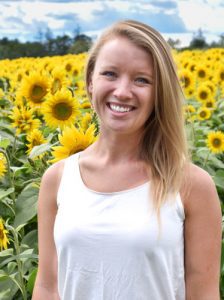 Adelle Chingas
Briefly describe your experience and education:
I have been passionate about working with children since I was a child myself. I received my Bachelors of Science from the University of New Hampshire in 2013 in Communication Sciences and Disorders with a minor in Deaf Studies, followed by a Masters of Science in 2015 in Speech Language Pathology with a focus in early childhood.
I have completed multiple trainings including being PROMPT trained.
Why do you love speech therapy?
I love being playful and silly – working with children is a great excuse to do both of these things. I also love the impact we see in children's confidence and pride as they feel the success of increasing their speech and language skills. Working with the whole family is so important so this is my favorite environment.
What are your passions outside of work?
I work part-time as a family and newborn photographer-another big passion of mine! I spend most of my time with my son and husband, hiking, being outdoors and playing with our two kitties!
What are three words someone would use to describe you?
I am positive, playful and kind.
If you could be any animal what would it be?
An elephant! They are so majestic and empathetic – there are quite a few in my office!
What is your guilty pleasure?
Sweets – any and all. I have a serious sweet tooth!