Lots of Fun and Smiles at Camp Runamuck (Camp 2019 is now full)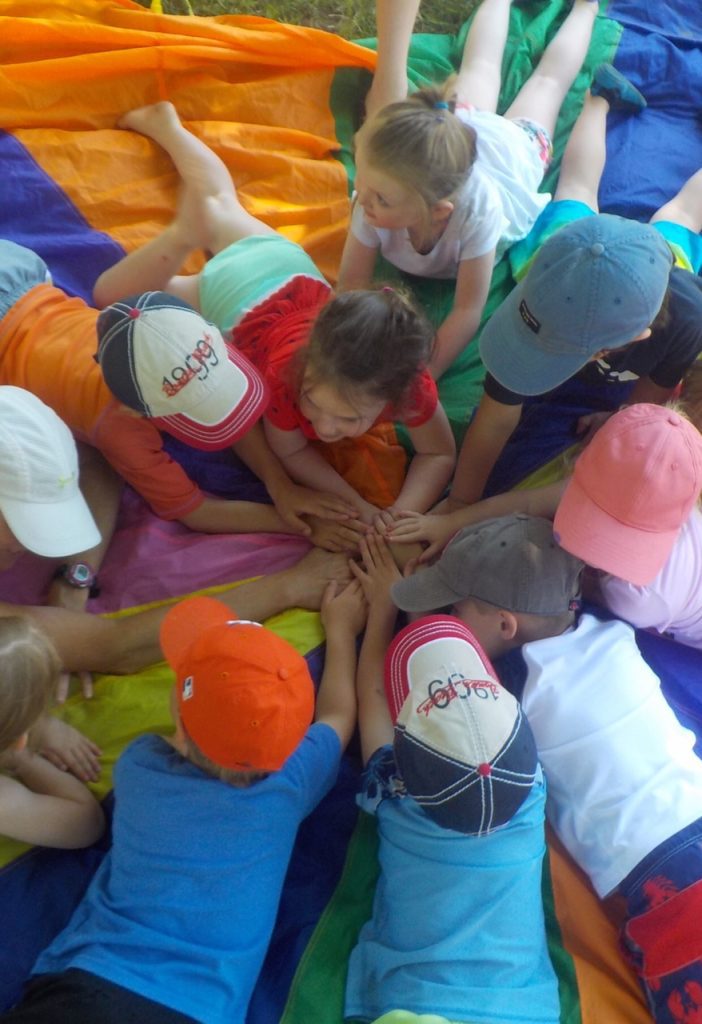 Welcome to Camp Runamuck, 2019! (Limited spaces available)
Camp Runamuck focuses on friendship, fun, and safe sensory exploration. Above all, our campers develop a sense of belonging to a very special group. Our goal is to improve the social communication skills of each and every camper through increased self-esteem, confidence, problem solving, and independence.  And there's always a mixture of water slides, swings, sandboxes, mud, and outdoor toys and activities. The end result is lots of fun and lots of smiles!
We offer separate programs for children between the ages of three and a half and five, and another older grouping for kids between 5 and 7. Miracle Farm Speech Therapy hosts Camp Runamuck at the home of Joanne Hanson MS, CCC-SLP, at the original Miracle Farms location in Hampton Falls, NH.  Her small farm location offers wide, open fields where the children can run and play. With the foundations of speech and language therapy woven into each activity, all programs are custom designed, with a daily interactive theme, by MFST founder and Camp Director Joanne Hanson.
Camp Runamuck provides a healthy snack and drinks for the kids on each day. We plan creative snacks that are designed to be enticing for some of our picky eaters. We will gladly individualize the snacks for any children with dietary restrictions or allergies. We ask that your child bring a bag lunch.  Also, there is a large covered barn that provides shelter in the event of rain.  Camp Runamuck is led by Director Joanne Hanson. The camp staff consists of speech pathologists, speech pathology interns, and students in related fields. There are also a few high school students who assist in music, set up, and monitoring at camp. We are able to provide one- on-one assistance for children in need of that level of support. In addition to our outstanding staff, a music therapist, occupational therapist, and physical therapist will come to camp once a week to provide a custom designed session.
Camp Runamuck is an ideal camp for children who have challenges in social language, communication skills, sensory integration difficulties, or other learning disabilities.  To inquire further about costs, upcoming scheduled dates and activities, please contact MFST at 603-918-1298.  We promise that this will be a memorable, fun-filled experience for all of your children! Register NOW!
NEW FOR THIS YEAR! Runamuck on the Road
This is a new option that will be offered on a limited basis this year and more next year. Please spread the word if you know of a school, preschool, or recreational program that may be interested. We will bring our camp to you!!
This is a great option for school summer programs who want to offer "one stop shopping" for their students while providing a week of fun filled activities and therapeutic intervention. It is a great way to 'bridge the gap' for any weeks that programs are not offered through the school. Here is the proposal:
-Miracle Farm Speech Therapy will bring all of our supplies to your school using a box truck and the themes for camp will change daily.
-Camp will be offered Monday through Thursday and will mirror the school's summer program hours (not to exceed 4 hours per day)
-Miracle Farm Speech Therapy will provide a staff of 5 (3 of them being Speech-Language Pathologist or Speech Pathologist students)
-Miracle Farm Speech Therapy will carry our own professional and business liability insurance
-A Music Therapist will come once a week for 45 minutes of music therapy
-A licensed Occupational Therapist will come once a week to run a sensory and movement based program
-Progress notes will be written at the end of the session to document the student's participation and progress toward IEP goals
-We will be happy to assist in billing on behalf of the school for reimbursement for any group SLP services if given the information and access by the school
The cost per student is $600
We are happy to customize this program based on specific needs.