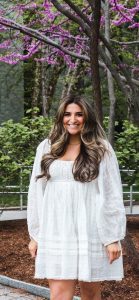 Alex Borriello
Briefly describe your experience and education.

I fell in love with the field of speech and language pathology as a freshman at University of Massachusetts Amherst while taking an intro to communication disorders class. Four years later I graduated with a B.S. in Communication Sciences and Disorders and minors in both Psychology and Education. I then went on to receive a M.S. from Northeastern University in Speech and Language Pathology in May 2021. As a graduate clinician I worked in a variety of pediatric settings across the North Shore including private practices and schools. I have worked with children of all ages and ability levels, including those with ASD, Childhood Apraxia of Speech, and Angelmen's Syndrome. While studying at Northeastern, I completed a graduate internship at Miracle Farm Speech Therapy. While there I admired their emphasis on a play-based, patient-centered approach to therapy and I saw the effects this approach could have on both a child's motivation and success. I have since decided to pursue a Clinical Fellowship at MFST, and have loved every minute of it! My clinical interests include motor speech disorders, individuals with ASD, and AAC.

Why do you love speech therapy?

I love working with kids! I also love that everyday is different. I get to have fun at my job working with children and helping them find success. I love combining evidence-based practice with fun, creative activities and play. Every child is unique, and I love the challenge of approaching each session with a child's unique set of needs and desires in mind, and then finding the approach that best suits them and their families.

What are your passions outside of work?

I love traveling both locally and abroad, but most of all, any place with a beach! I love reading any and all kinds of books, and I can often be found spending time with my family and friends. Most of all I love spending time with my crazy puppy Beau.

What are three words someone would use to describe you?

Kind, Motivated, Creative

If you could be any animal what would it be?

A butterfly so I can fly anywhere I want!

What is your guilty pleasure?

Chocolate and anything on Bravo!