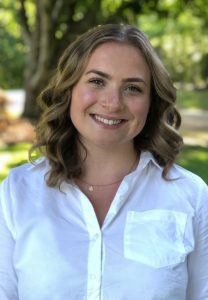 Ashley Kelley
Briefly describe your experience and education.

My love of working with children was jumpstarted by a high school internship at MFST nearly 10 years ago. My summer breaks throughout high school and college were spent as as a Camp Runamuck counselor, where my passion was solidified. I went on to receive my B.S. in Communication Sciences and Disorders with minors in Hearing and Deafness Studies and Psychology from Emerson College in Boston.  I continued my education at Emerson and graduated in 2019 with a M.S. in Communication Sciences and Disorders. My clinical interests include hearing loss, AAC, feeding disorders, and individuals with complex medical needs.

Why do you love speech therapy?

There is nothing better than watching a child "get it." It is why I love going to work every day! I also enjoy working with and mentoring parents about supporting their child's communication outside the therapy room.

What are your passions outside of work?

In my free time, I love going to yoga or spin classes, relaxing at the beach or paddle boarding, and spending time with my friends and family.

What are three words someone would use to describe you?

Dedicated, honest, and fun-loving.

If you could be any animal what would it be?

Definitely a puppy.

What is your guilty pleasure?

Donuts.