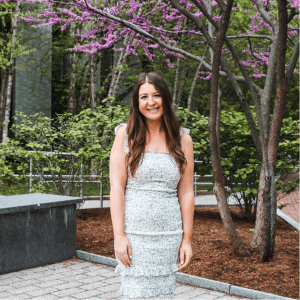 Julia Sambuco
Briefly describe your experience and education.

My passion for working with children first began in high school, as a teacher's assistant at a daycare in my hometown of Andover, MA. This experience opened my eyes to how important the early years of a child's life are to their speech and language development. I went on to pursue my undergraduate degree at the University of Massachusetts Amherst in Communication Sciences and Disorders with a Minor in Education. After graduating, I continued my studies and received my Master's Degree in Speech Language Pathology at Northeastern University in May 2021. During my time in graduate school, I was exposed to a variety of pediatric therapy settings including two elementary schools and Miracle Farm Speech Therapy. It was here where I truly realized I had chosen the best field!

Why do you love speech therapy?

Every week is different and I am constantly learning new things from my clients each day! No two children are the same, which motivates me to discover the most effective treatment approaches for each individual's needs. Witnessing my clients reach their goals is the most fulfilling and rewarding experience and I could not picture doing anything else!

What are your passions outside of work?

When I'm not working, I love traveling and spending time exploring new places. As a college junior, I studied abroad in Florence Italy and have had the travel bug ever since! I love trying new restaurants with friends and spending time with family on Nantucket.

What are three words someone would use to describe you?

Passionate, empathetic and determined

If you could be any animal what would it be?

I would be a dog because I love to make people smile.

What is your guilty pleasure?

Warm chocolate chip cookies and The Bachelorette!