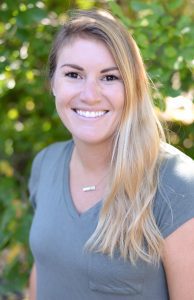 Kiley Corson
Briefly describe your experience and education.
I have been working as a Speech-Language Pathologist since 2015. I attended the University of New Hampshire for both my Bachelor's and Master's degree programs in Communication Sciences and Disorders. Following graduate school, I worked in a variety of school settings and became partner at a private practice specializing in early childhood communication disorders. I have experience with clients of all ages and ability levels, but my passion lies in working with high-needs children, especially those with Autism Spectrum Disorders.
Why do you love speech therapy?
I love speech therapy because I get to laugh every, single day. Working with children allows me to celebrate my inner child while helping them communicate at the same time. Seeing the joy on a child's face as he/she develops a new skill is the most rewarding part of my day.
What are your passions outside of work?
I love to travel. In my free time I enjoy exploring the outdoors, camping, running, relaxing by the lake/beach, and spending time with family and friends.
What are three words someone would use to describe you?
Passionate, dependable, spontaneous
If you could be any animal what would it be?
An eagle – I could do all the traveling I want!
What is your guilty pleasure?
Cheese – I love it all.