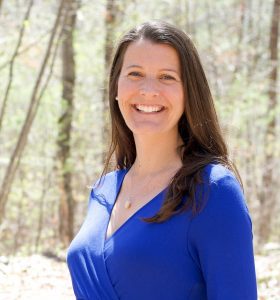 Megan Lane
Experience and Education:
I graduated from UNH in 2013 with a B.S. in Communication Sciences and Disorders with minors in Deaf Studies and Education. I received my M.S. in Communication Sciences and Disorders from UNH in 2015. I have a passion for working with children and young adults of all ages, and have experience working with children ranging from age 18 months through age 21 across settings. I enjoy providing play-based and functional speech therapy services, with an emphasis on the priorities of families and children. I have experience working with high and low-tech Augmentative and Alternative Communication devices.
Why do you love speech pathology?
I have always had a passion for helping others and I love working with children. I enjoy supporting children, young adults, and families in a fun and functional way. The field of speech pathology allows me to do what I love and have fun everyday!
What are your passions outside of work?
When I'm not at work, I love spending time with my husband, son, and our dog. We love hiking, camping, spending time on the boat, and exploring nature.
What are three words someone would use to describe you?
Kind, compassionate, and patient.
If you could be any animal what would you be?
A dog – hanging out at home with family and running around in the woods!
What is your guilty pleasure?
A good donut!